Victory for Mullins,    


Better Weather on Sunday


After the changeable conditions on Saturday Sunday started beautifully. Sylvie Mullins added another trophy to his growing collection.  Joe Courtney in his motorcycle engined OMS Hornet took the early lead , but Mullins used his Judd V8 power to take the win by 0.52 seconds.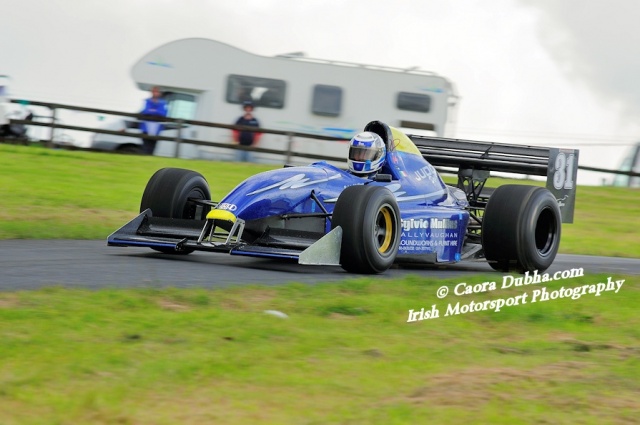 1st Overall both days Sylvie Mullins in his Judd V8 powered Gould GR37
Club members Ed Synan in his Escort and Eanna Carroll in his turbo charged Civic had a great battle in class 3B. Ed had the lead for the first three runs, but on the fourth run Eanna pipped Ed to take third in class  3B by 9 hundredths of a second.
Video of the quickest saloon and class 3b winner Simon McKinley
Kevin O'Connor in his Citroen C2R2 upheld club honours in class 8
Johnny and Kevin O'Connor in the C2R2
Click here for album of photos by An Caora Dubha
Click here for album of Photos by Jay Tee Photography
Sunday Results Web(html) Print(PDF)
Saturday Results Web(html) Print(PDF)
Entries will be accepted until Friday email This email address is being protected from spambots. You need JavaScript enabled to view it.
Anybody interested in marshaling Saturday, Sunday or both days please contact Cathal Mansell (contact details on Marshal Information page)
Video of course to be used for the sprint
The launch event for the sprint was held at Limerick racecourse Friday 12 July 2013 at 7pm.
Regulations and Entry form now available for 2013 Limerick Motor Club Sprint at the Irish Festival of Speed
Click here for Regulations
Click here for Entry Form
Competitor Profile Form
Entry enquiries to This email address is being protected from spambots. You need JavaScript enabled to view it.
Please ensure payment is included with entry form, cheques, drafts and money orders must be payable to Limerick Motor Club.
Entry Form above is for sprint only. There are three requirements to enter sprint 1. Car prepared for speed motorsport competition  2. Driver with suitable motorsport competition licence 3. Entry Fee payable to Limerick Motor Club
This event is organised to MI Appendix 80 Organisation of Hillclimbs and Sprints requirements
The sprint is a an open Limerick Motor Club event. Entries will be accepted from all motorsport licence holders provided licence is of a suitable grade. Licence holders from other countries affiliated to the FIA are welcome. Non FIA licence holders please contact Motorsport Ireland as there may be an arrangement in place for your country.
Eligible Cars Any car prepared for speed motorsport is allowed such as Rally, Race, Hillclimb/Sprint cars. Cars must have a log book issued by a FIA affiliated national sporting association (Motorsport Ireland, MSA etc). If you have a logbook issue please contact This email address is being protected from spambots. You need JavaScript enabled to view it.
Historic cars are welcome at this event. Please read the HRCA regulations for an indication of allowed cars . HRCA technical regulations on Motorsport Ireland website.
Competitors There is a profile form available, this information will be used on websites, printed materials and by commentators during the event. Please complete this form so that you, the competitor, can get the best promotion during the event.
Don't want to Compete? If you do not wish to compete the Irish Fesival of Speed organisors will be running demonstration laps for special cars. Email them at This email address is being protected from spambots. You need JavaScript enabled to view it. with some photos and details of your car
The launch for the Irish Festival of Speed took place  Sunday 5 May 2013 at 11:00 in the Potato Market, Limerick
All are welcome. Click here for more information
Links for the Irish Festival of Speed